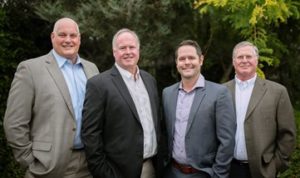 Recognized as one of the top Civil Engineering and Land Surveying firms in the North Bay, Adobe Associates, Inc. provides Civil Engineering, Land Surveying, Land Planning, and Wastewater Design services for the development of private and public projects. Since 1982 Adobe Associates, Inc. has helped thousands of clients to maximize the value of their projects by finding potential opportunities others often miss, creating practical, accurate design solutions and guiding projects through the often onerous Regulatory Process. Our Civil Engineering and Land Surveying company is proud to be a family business built on honesty, integrity and dependability.
Adobe Associates, Inc. was founded by Paul Brown in 1982 as a two-person land surveying office in Petaluma, California. By 1985, the company had added brothers Dave Brown and Steve Brown, and had grown into a full service Land Surveying & Civil Engineering firm based in Santa Rosa, California.
During the mid-1990s, Adobe Associates, Inc. built its Wastewater department under the direction of Merrill Van Fleet and Steve Brown. Because of their experience and expertise, Adobe has become the go-to firm for Wastewater Management in the northern Bay Area.
Steve Brown explains, "in rural land development it is critical to establish wastewater disposal potential," adding that, "the scope of a project is often dictated by the capability of the land to accommodate waste flows." It is this commitment to developing the full scope of the project that has allowed Adobe Associates, Inc. to pull ahead of the competition.
The family business has grown quickly as the quality of the firm's Civil Engineering work has become widely known across Sonoma County and the surrounding area. CFO, Dave Brown, commented, "we realized early on that this is a relationship business. We worked hard to build solid relationships with our clients, local agencies and fellow project consultants. Not surprisingly, some of those early relationships still endure to this day." Paul Brown adds, "When I started this venture with my brother, Dave, I hadn't envisioned what we have become. I trusted that if we focused on providing a service to our clients, we would be taken care of automatically. And of course, I love the breadth and expanse of the surveying profession. And here we are!"
From its early days, Adobe Associates, Inc. brought a combination of talent and experience along with a commitment to quality service to each project. This focus enables Adobe Associates, Inc. to deliver on its clients objectives, even when faced with difficult issues. Since its founding, Adobe has built an enduring reputation for ethics, honesty, and integrity.
Adobe Associates, Inc. has continued to grow and deliver on its commitment to its clients. "We take a little different approach," says Aaron Smith. "We believe strongly in educating our clients up front in the Civil Engineering process, so that they have a full picture. We know that this approach enables us to help them reach their ultimate goals, and we'll be able to thoroughly maximize the value of their project along the way."