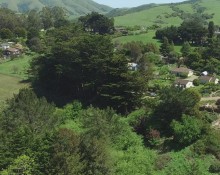 Adobe Associates, Inc. recently acquired two drone aircraft, the INSPIRE 1 and PHANTOM III. Our pilots, Jeff Jaggars and Dan Langley are eager to utilize this new technology on a host of projects throughout Sonoma, Napa, and Lake County. Whether it is evaluating the location of fence lines, calculating vineyard acreage, or drafting site maps, aerial imagery captured with drones has proven to be an effective tool to capture orthorectified photography of a project site.
While the use of unmanned drone aircraft is a new advancement in aerial imagery, mapping with aerial photography has been a trusted tool for surveyors for decades, and drones and post processing software have only made this practice more accessible. As with traditional manned aerial mapping the first step in a successful survey is choosing the right site to apply drone technology. To capture accurate data, and fly within the confines of the law, sites must be largely free of overhead obstructions, permission of property owners impacted by flight must be obtained, drones must be flown within a ceiling of 400′ above the point of take off, and drone use within 1 to 5 miles of an airport is heavily restricted. Thankfully, Sonoma, Napa and Lake County, have plenty of large rural properties that lend themselves well the use of drones.
The land surveyor will select a flight area, calibrate the drone, and deploy the drone, to automatically pilot the chosen area. Great care must be taken to choose a flight plan and flight elevation that is not impacted by on site obstructions such as trees, poles or overhead wires, and a safe takeoff and landing location chosen in addition to emergency landing sites identified.
To effectively utilize aerial imagery, surveyors must first establish flight crosses. These crosses will vary in size depending on the height the drone is flown, these crosses only need to be clearly identified in the resulting aerial images. With maximum flight times between 15 to 17 minutes per flight, it is possible for surveyors to capture imagery across a 40 acre site in one flight.