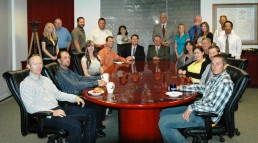 By Sheryl Dodele | September 28, 2013
Adobe Associates is once again honored to be selected by the North Bay Business Journal as a winner of the Best Places to Work in the North Bay award. This marks Adobe Associates as a two-time winner of the award.  Kudos to our Adminstrative, Land Surveying, Wastewater, and Civil Engineering staff as well as the Principals, David Brown, Steve Brown, Aaron Smith, Tim Schram, and our Founder Paul Brown, in creating an atmosphere that in the words of our staff, "makes the office environment enjoyable while encouraging excellence, pride, respect, and teamwork" in a "fun and friendly environment".
The event honoring 75 firms took place at the Hyatt Vineyard Creek Resort and Spa in Santa Rosa, California on September 18, 2013.  Please see the full article in the September 23, 2013 edition of the North Bay Business Journal's "Best Places to Work" article .