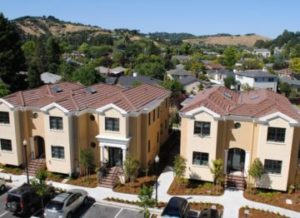 For Civil Engineering services in Marin, clients can count on Adobe Associates, Inc. Adobe is a leading firm in Land Development throughout Northern California with over 30 years of experience in Civil Engineering, Land Surveying and Wastewater Management. Adobe Associates is a well-rounded firm that values integrity, respect, quality, and teamwork. The engineers and surveyors of Adobe Associates are highly regarded for their professional practices, breadth of experience and responsive communication.  They have developed close working relationships with local agencies and possess extensive knowledge of local regulations and procedures. Adobe Associates consistently delivers results that meet or exceed client expectations by maximizing the value of a project and guiding it smoothly to completion.
Adobe Associates is proud to have provided innovative and sustainable design projects throughoutMarin County. One such project is The Tamalpais Commons Mixed Use Retail and Condominiums project which is the first of its kind to be developed in Mill Valley. Tamalpais Commons is a registered GreenPoint project. It incorporates a number of resource-saving technologies such as tank-less hydronic radiant heating system and rooftop solar panels.  Adobe Associates' surveyors and LEED-certified engineers worked in tandem to provide topographic mapping, entitlement consultation, final map preparation, condominium plans, site improvements with associated drainage and parking facilities, re- grading, elevation certificates, drainage analysis, construction administration and construction staking services.
Adobe Associates is well-known for delivering reliable civil designs, accurate land surveying and intelligent wastewater solutions for land planning development projects in Marin County. Through every step of the process, Adobe Associates' three in-house departments, Civil Engineering, Land Surveying, and Wastewater provide cost-benefit solutions and seamless follow-through for every phase of a project. Adobe Associates is devoted to a high level of client satisfaction which is built over the course of a project from the moment of inception through the final stages of completion and repeat clients know "you can count on us".
Civil Engineering services provided by Adobe Associates include:
Project Evaluation & Planning
Public Agency Coordination & Processing
Improvement Design, Plans & Specifications
Grading and Drainage Design & Permitting
Drainage Studies
Storm Water Management, including Storm Water Pollution Prevention Plan (SWPPP) and Qualified SWPPP Developer and Practitioner
Ready to Discuss your Project?