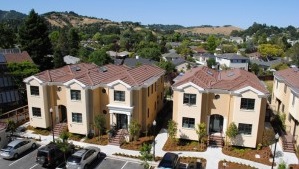 Providing Civil Engineering services in Novato since 1982, Adobe Associates, Inc. has established itself as a leader in Civil Engineering, Land Surveying and Wastewater Management in the North Bay.  Adobe Associates has grown steadily to become a well-respected firm with a reputation for the technical skill, reliable communication and steadfast professionalism of their experienced engineers and surveyors. They have established excellent working relationships with land owners, private developers, public agencies and consultants. Nurturing these relationships has contributed to the success of Adobe Associates in delivering results that meet or exceed client expectations.
Novato clients appreciate the caliber of work produced by the comprehensive civil design approach at Adobe Associates. Our Engineer will work from project inception to anticipate potential issues and develop creative, practical solutions based in solid engineering.  Engineers possess an extensive understanding of local and state regulations and can successfully navigate projects through the permitting and entitlement processes. Commercial projects like the Redwood Landfill have benefitted from the quality roadway design, drainage analysis and construction administration, as well as accurate topographic mapping, by the engineers and land surveyors of Adobe Associates. The firm's three departments, civil engineering, land surveying, and wastewater engineering, work closely together in order to assist clients in keeping projects on track, on time and on budget.
To discuss your project and how Adobe Associates' skilled engineers, surveyors and technicians can best assist you, please contact Adobe Associates, Inc. for a free consultation.
Civil Engineering services provided by Adobe Associates, Inc. include:
Project Evaluation & Planning
Public Agency Coordination & Processing
Improvement Design, Plans & Specifications
Grading and Drainage Design & Permitting
Drainage Studies
Storm Water Management, including Storm Water Pollution Prevention Plan (SWPPP) and Qualified SWPPP Developer and Practitioner
Sustainable Design, LEED Certified
Transit Oriented Development
Wastewater Solutions
Ready to Discuss your Project?