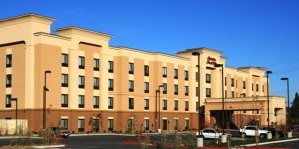 Do you need Civil Engineering services in Rohnert Park or Cotati? Our firm has provided quality Civil Engineering, Land Surveying, and Land Development services to Northern California since it was founded in 1982. Adobe Associates' engineers and surveyors are recognized for their expansive knowledge, professionalism, experience, communication and timeliness. Over 35 years of providing civil engineering and land surveying services in Sonoma County has helped Adobe Associates to establish strong relationships with land owners, private developers, public agencies and consultants. All of this contributes to the success of Adobe Associates in delivering results that meet or exceed client expectations.
Rohnert Park and Cotati clients recognize Adobe Associates for being comprehensive and providing reliable civil designs, accurate land surveying and intelligent wastewater solutions for their land development projects. Successful Rohnert Park/Cotati projects for which Adobe Associates provided consultation and engineering services include the Hampton Inn, Cotati Cottages, and Cotati Station Apartments. Adobe Associates' engineers provided services that included master planning, site improvement design, drainage analysis, storm water pollution prevention plan (SWPPP), and construction documents, while their surveyors performed concise topographic mapping and construction staking.
Adobe Associates' sound project planning, technical expertise and innovative approach keep projects on time, on track and on budget. Their engineers work with the project from inception to anticipate potential issues and develop creative solutions while remaining deeply committed to good, solid engineering.
Whatever your engineering or consulting needs are, our goal is to provide a quality work product with cost-benefit solutions and a seamless follow-through in every phase of the project. Our three in-house departments, Civil Engineering, Land Surveying, and Wastewater are here to help do just that.
Civil engineering services provided by Adobe Associates include:
Project Evaluation & Planning
Public Agency Coordination & Processing
Improvement Design, Plans & Specifications
Grading and Drainage Design & Permitting
Drainage Studies
Storm Water Management, including Storm Water Pollution Prevention Plan (SWPPP) and Qualified SWPPP Developer and Practitioner
Wastewater Solutions
Private Sewage Disposal System Site Evaluation, Design and Public Agency Permitting
Ready to Discuss your Project?