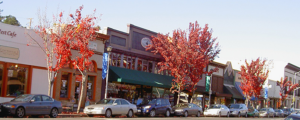 Are you in need of Civil Engineering Services in Sebastopol? Adobe Associates, Inc. is a leading provider of Civil Engineering, Land Surveying, and Land Development services throughout Northern California. Our firm maintains a solid reputation within the community by providing the most accurate and comprehensive development services to Sonoma County residents. Since 1982, Adobe Associates has cultivated strong relationships with public agencies by maintaining an exacting knowledge of current regulations and developments in the field of engineering. At Adobe Associates we consistently meet and exceed client expectations through our experience, professionalism, expansive knowledge, communication, timeliness, and quality of work.
Sebastopol clients know to look to Adobe Associates for excellent civil designs, accurate land surveying, and intelligent wastewater solutions for their land development projects. Adobe Associates is a leader in sustainable development and green building practices, both in day-to-day operations and in the work performed by our LEED-certified engineers. This commitment to sustainable design was showcased in work prepared for the Sequoia Village Affordable Housing project in Sebastopol where designs for stormwater run-off, bio-retention areas, and pervious surfaces were major contributions made by Adobe Associates.
Whether the project is in Sebastopol or in the unincorporated areas of West County, Adobe Associates offers innovative engineers with expertise in a range of disciplines.
To discuss your project and how Adobe Associates' skilled engineers, surveyors, and technicians can best assist you, please contact Adobe Associates, Inc. for a free consultation.
Civil Engineering services provided by Adobe Associates, Inc. include:
Site Exploration and Evaluation
Feasibility Studies
Rural Land Evaluation (both residential and commercial use)
Project Evaluation & Planning
Improvement Design, Plans & Specifications
Grading and Drainage Design & Permitting
Storm Water Management, including Storm Water Pollution Prevention Plan (SWPPP) and Qualified SWPPP Developer and Practitioner
Sustainable Design, LEED Certified
Wastewater Solutions
Private Sewage Disposal System Site Evaluation, Design and Public Agency Permitting
Ready to Discuss your Project?