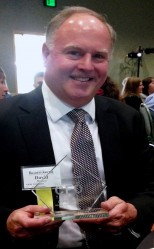 By Erin Douglas | August 06, 2014
Adobe Associates Inc., CFO David Brown has been honored as one of The North Bay Business Journal's  Top 10 Leading CFO in the North Bay.
David is one of the founding partners of Adobe Associates Inc. and has been a driving force for the company's success and outstanding reputation. Under his leadership Adobe Associates, Inc. has become one of the top engineering firms in the North Bay.
David instills in the Adobe staff that the success of our business revolves around understanding and   responding to our client's needs. By remaining focused on the goals of our clients and providing exceptional service, the company will be successful. This lesson has been embedded into our culture and is one of the key components to Adobe's success.
"We realized early on that this is a relationship business. We worked hard to build solid relationships with our clients, local agencies and fellow project consultants. Not surprisingly, some of those early relationships still endure to this day."- David Brown.
David is not just a leader at Adobe; he's a leader throughout the engineering industry in the North Bay.  He is a proud member of the American Council of Engineering Companies, North Coast Builders Exchange, the American Society of Civil Engineers, the National Society of Professional Engineers, Santa Rosa Chamber of Commerce, United States Green Building Council and the Congress for New Urbanism.
All of us at Adobe Associates are very proud that David has been awarded this very highly regarded award
The North Bay Business Journal's Top 10 Leading CFO in the North Bay Awards were held August 19, 2014 at the Hyatt Vineyard Creek in Santa Rosa.
Check out David Brown's interview with the North Bay Business Journal