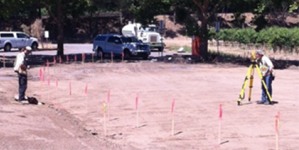 Do you need professional and experienced Land Surveying Services in Petaluma? Since 1982, Adobe Associates, Inc. has built a team of land surveyors and civil engineering experts who share our commitment to quality and our client's objectives. In general, we offer a wide variety of civil engineering, surveying, and wastewater services to meet our client's needs related to property ownership and property development. Our land surveying staff possesses a wide range of talent, technology, and experience.
While working with private developers, Petaluma landowners, and a multitude of public agencies, we have grown steadily to become a widely known, and well-respected, full-service land surveying and civil engineering firm. Adobe Associates land surveying in the Petaluma area includes lot line adjustments for clients like the Plaza North Shopping Center, mapping for a bike bridge crossing for a private landowner, topographic mapping and construction staking for a Petaluma estate home, Old Elm Village Apartments, and numerous other single-family residence and farmland projects. Our land surveying services in the Petaluma area for residential and commercial projects include:
Site Topographic Mapping
Boundary Survey
Lot Line Adjustment
Construction Staking
Record Document Research
Certificates of Compliance
Benchmark Establishments
Field Investigation
Additional Land Surveying Services
Here is a review from one of our land surveying clients in the Petaluma region, stating what he likes about working with Adobe Associates, Inc.:
"I like Adobe because they know how to make projects work. They are proactive partners in the design & construction process. Adobe's approach is – "let's find a solution together." They take a practical approach, not just theoretical, which is less costly. They know how work is done in the field. I find that Adobe is well respected by the local permitting authorities so they can make the process smoother. When outside firms come into Sonoma County, sometimes those firms don't have any credibility with local agencies and that may make it tougher to permit a project. After working with Dave Brown for more than 20 years, he has repeatedly proven to be a problem solver who manages a 1st class firm."
-Willie McDevitt, McDevitt & McDevitt Construction
Ready to Discuss your Project?