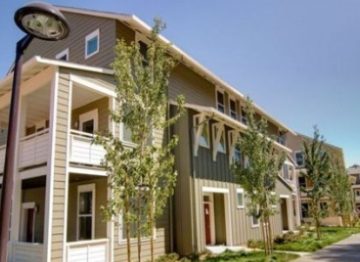 Foss Creek Court is an affordable housing project comprised of 64 apartments of family rental housing near downtown Healdsburg. The unit mix includes 14 one-bedroom units, 30 two-bedroom units and 20 three-bedroom units configured as both townhouses and flats. The project also includes a community building, a community learning center, two tot lots, a community garden, two laundry buildings, and a maintenance building.
In addition to the housing elements, design services and construction documents were prepared for an 800 foot length of a 10 inch paved pedestrian pathway. This span of the pathway provides a much needed connection for pedestrians traveling south to the city center a few blocks away where in the past individuals would walk along the tracks.
Adobe Associates, Inc. Civil Engineering and Land Surveying departments provided the following services:
Elevation Certificates
Prepared & Processed Improvement Plans with the City of Healdsburg
Pathway Design Services
Notable Project Features:
The project is GreenPoint Rated and includes many sustainable features such as photovoltaic solar panels, solar hot water panels, energy star appliances, use of native and drought-tolerant landscaping, and other water and energy-saving features.