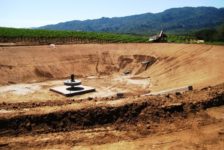 Are you in need of Wastewater services in Calistoga? Calistoga residents who live on rural properties with private sewage requirements can look to Adobe Associates, Inc. for assistance. We are the top wastewater management firm in Calistoga. For 30+ years, we have been developing successful wastewater projects for properties throughout Northern California. Our civil engineering team will maximize the value of your wastewater project.
Several Calistoga properties do not have access to the city sewage system. If this is the case for your property and you wish to build or expand on that land, we encourage you to contact us for wastewater management. We have the skills, experience, and knowledge to navigate you through Calistoga's wastewater regulations maze. Over the years, we have developed a solid reputation and lasting relationships with the agencies involved in the approval and permit process. When you choose to work with us, we will handle your wastewater project in Calistoga quickly and correctly.
Customers that generally contact about wastewater management projects in Calistoga include both residential and commercial clients:
Property owners
Wineries
Developers
Real estate professionals
Public agencies
If you require a private sewage system for your Calistoga property, contact us today. As a client-oriented firm, we ensure you will receive professional, honest, and courteous service. To schedule an appointment, call us at (707) 541-2300 or contact us online.
Ready to Discuss your Project?