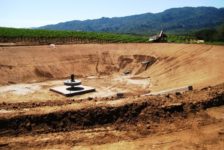 Do you need Wastewater Services in Healdsburg? Adobe Associates, Inc. is a leading firm in wastewater management. Our civil engineering team boasts over 35 years of experience in developing ideal wastewater treatment plans for rural Healdsburg properties.
Your land's ability to effectively handle wastewater can greatly affect its value, regardless of whether it's residential or commercial. In order to save you both time and money, we will identify potential problems and challenges. For example, if your Healdsburg property does not have access to a public sewer system, you will need to consider how a private wastewater management system will serve your property's needs. Citing a recent example, our civil engineers completed a project at Roth Winery in Healdsburg where we developed a wastewater pond, along with domestic wastewater management.
Fortunately, Adobe Associates, Inc. specializes in developing wastewater treatment plans for private properties. We will help secure the proper permits, arrange soil testing, and follow Healdsburg's building specifications. We guarantee that we will design a successful wastewater plan for your property. Once your project is approved, we will refer you to highly reputable septic contractors. Your chosen septic contractor will then install a sewage system that follows our Healdsburg-approved design and requirements.
Ready to Discuss your Project?