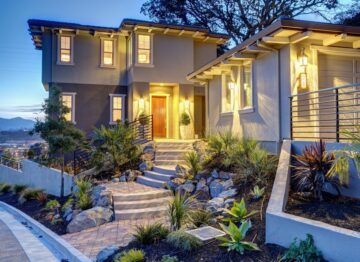 The Drakes Cove Subdivision is a 23 unit custom home subdivision located in Larkspur, California. This collection of custom single-family homes climbs the hillside overlooking the bay and Mt. Tamalpais, providing breathtaking views to match the quality craftsmanship. Modern multi-story designs give residents plenty of living space on a limited footprint, with some units reaching over 3000 sq ft. Located near parks and hiking trails, the site provides easy access to the outdoors and is within walking distance from shops, restaurants, and the Ferry Terminal.
Adobe Associates, Inc. Civil Engineering and Land Surveying departments provided the following services:
Take a look at more pictures on the Larkspur Hills at Drakes Cove website.