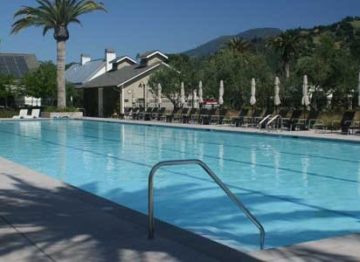 The Solage Calistoga project included the development of a 26-acre premium spa and resort. It includes 89 deluxe rooms in 52 cottages, spa and treatment rooms, fitness and yoga centers, nine pools, bocce ball courts, restaurant/bar, an events building and an administration building.
Sustainable aspects of Solage's 26-acre resort include a relocated wetlands area, large scale use of impervious surfaces including decomposed granite and turf block surfaces, bio-swales for storm water collection and treatment of onsite storm water runoff, drought tolerant plants, reclaimed water for landscape irrigation, drip irrigation systems, limited lawn areas utilizing less irrigation demand, geothermal heating for pools, solar photovoltaic systems, and the use of low wattage lighting. Guests of Solage have access to bicycles to tour local vineyards or enjoy shopping and dinning downtown. Offsite improvements include the replacement of a City owned wastewater lift station.
Adobe Associates, Inc. Civil Engineering and Land Surveying departments provided the following services:
Awards:
Adobe Associates received the North Coast Chapter of ACEC-California Annual Engineering Excellence Award for 2011 Project of the Year in the "Private Owner" category.