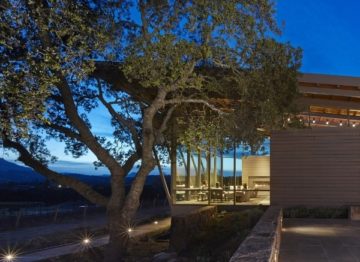 The Hamel Family Wines project consisted of the development of a 124.36-acre parcel into a winery with production buildings, an estate house, exterior support structures, tasting terraces, wine caves, a septic field, a wastewater pond, and a new 18-ft wide paved driveway to provide access to the winery from Sonoma Highway. The project also includes the construction of a 14-ft wide paved truck route, overflow parking areas, a bridge, a vineyard storage building, and its access drive.
Adobe Associates, Inc. Civil Engineering, Wastewater, and Land Surveying departments provided the following services:
Notable Project Features:
Earth removed from the wine cave excavation was reused to form rammed earth walls that run the length of the estate house and administrative wing.
Awards:
This project was the winner of the North Bay Business Journal's Top Real Estate Projects in the North Bay in 2013 in the Sonoma Winery Category.