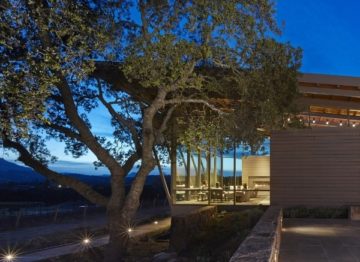 Hamel Family Wines is in its final stages of developing a 124.36 acre parcel into a winery with production buildings, an estate house, exterior support structures, tasting terraces, wine caves, a septic field, a wastewater pond, and a new 18-ft wide paved driveway to provide access to the winery from Sonoma Highway. The project also includes the construction of a 14-ft wide paved truck route, overflow parking areas, a bridge, a vineyard storage building and its access drive.
Adobe Associates, Inc. Civil Engineering, Wastewater, and Land Surveying departments provided the following services:
Entitlement Consultation
Site Exploration
Pre-perc Testing
Boundary Surveys
Topographic Mapping (including aerial)
Commercial Driveway Design
Schematic Design
Sewage Disposal System Design
Process Wastewater Treatment Design (wastewater pond)
Design Development for the Production and Estate Buildings, Tasting Room, Barrel Caves, Detached Restroom, Exterior Support Structure, Pump House, Vineyard Storage Building, Parking Areas and Driveways
Construction Documents
Caltrans Encroachment and Driveway Entrance Construction Documents for Hwy. 12 Design and Permitting
Bidding Services
Stormwater Pollution Prevention Plan & Qualified Stormwater Practitioner Services
Construction Administration
Construction Staking
Preliminary Creek Crossing Analysis and Grading Plan Design and Permit Processing and Water Supply Permitting
Notable Project Features:
Earth removed from the wine cave excavation is being reused to form rammed earth walls that run the length of the estate house and administrative wing.
Awards:
This project was the winner of the North Bay Business Journal's Top Real Estate Projects in the North Bay in 2013 in the Sonoma Winery Category.