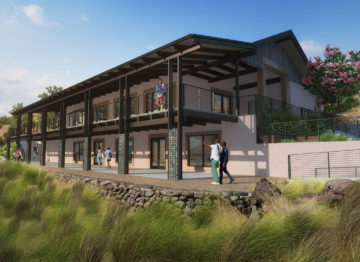 Paradise Ridge Winery was one of the many properties hit by the devastating Tubbs wildfires in 2017. The site was significantly damaged; the wine-making building, event center & tasting rooms, three homes, and several additional structures were destroyed. This was a devastating loss for the Byck family, but they were determined to rebuild.
The priority was to replace the tasting rooms and event center. These critical facilities are the heart of the estate's hospitality services and completing them allows Paradise Ridge to get back to providing tastings, weddings, and other events. Production facilities were pushed back as a future project, leaving wine production to be done off-site. Adobe Associates was contacted early in the rebuild process, tasked with designing the septic system for the new event center as well as the grading for the site.
The rebuild was completed in the latter half of 2019, just in time for their December re-opening celebration.
Adobe Associates, Inc. Civil Engineering and Land Surveying departments provided the following services:
Awards:
North Bay Business Journal's 2019 Top Real Estate Projects in the North Bay.
Additional Information:
More info on Paradise Ridge Winery and their story: Link
Check out the Virtual Tour of the New Tasting Room: Link
And more pictures of the project at TLCD Architecture: Link