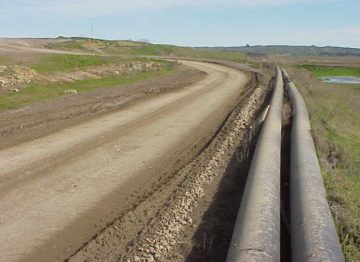 The Redwood Landfill project included the construction of over a mile of paved access roads, new scale house, scales and a trash drop-off area.
Phase I of the project included the construction of an AC paved access road of approximately 2,354 feet to replace the existing gravel road. The road has two travel lanes for its first 1,496 feet and is widened to have three travel lanes for the rest of the 858 feet.
Phase II of the improvements included the construction of approximately 960 feet AC paved road. This road provides access from the existing AC road to a new scale house and drop off area located on the western side of the existing office building. At the scale house, there are three 14 foot wide inbound lanes and two 14 foot wide outbound lanes. The remaining improvements for the Redwood Landfill project include three 1,184 foot gravel lanes that extend to the landfill area.
Phase IIA includes the construction of a 755 foot long extension to the access road.
Adobe Associates, Inc. Civil Engineering, Land Surveying, and Wastewater departments provided the following services:
Assessment of Existing Utility Infrastructure and Design of New Utility Services
Notable Project Features:
We were able to construct the scale house, scale, and associated improvements on an old landfill refuse area. The overall project went through an environmental impact review process. For this project and all other Waste Management projects, we are required to store and treat site runoff prior to water leaving the site.