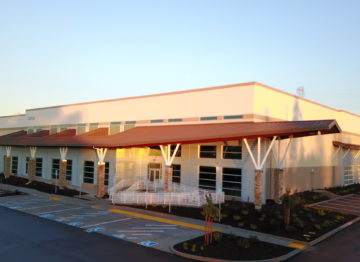 Victory Station, previously known as Sonoma Valley Business Park, is a 19.16-acre industrial development project. The single building development was designed to accommodate a variety of uses, taking advantage of the wine/food and warehousing needs of the Sonoma Valley.  Project improvements include a 280,321 s.f. single cold shell building, site parking and access, and landscaping. The project utilized sustainable materials and construction practices to include a stormwater pollution prevention plan to minimize contamination and erosion. All stormwater runoff will be through a specially designed water quality detention and treatment basin.
Adobe Associates, Inc. provided topographic mapping, right of way survey, right of way dedication documentation, road widening, drainage analysis, planimetrics; signing/striping plans, grading and drainage, no net fill analysis within a flood zone, landscape design (tree mitigation); Highway 121 widening and right of way dedication.
Adobe Associates, Inc. Civil Engineering and Land Surveying departments provided the following services:
Notable Project Features:
One of the biggest challenges we faced was the location of the project residing within the flood zone. This required us to raise the building up out of risk. In doing so, we had to prove the project was a no net fill project. No net fill analysis is performed by evaluating and comparing the flood storage volumes within the project site in pre-construction and post-construction conditions from groundwater elevation – monitored throughout winter – up to flood elevation. This is done to demonstrate the proposed grading will result in a balance of floodwaters and will have no impacts on the floodway drainage.
More info on Victory Station here!
Awards:
American Council of Engineering Companies (ACEC) 2018 Development Project of the Year.
North Bay Business Journal 2018 Top Real Estate Project Awards.