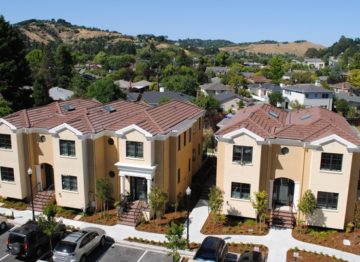 Tamalpais Commons is a mixed-use project comprised of 12 single family townhomes, a 3-story mixed-use building containing street-level commercial condos, above which are 4 live/work condos and 5 residential condos. Prior to starting the project the existing building, Hill Haven Convalescent Hospital, was demolished.
Adobe Associates, Inc. Civil Engineering and Land Surveying departments provided the following services:
Notable Project Features:
The retail and commercial condominium units are the first of their type to be developed in Mill Valley. The project incorporates a number of resource-saving technologies such as tankless hydronic radiant heating and rooftop solar panels. Tamalpais Commons is a registered GreenPoint project.